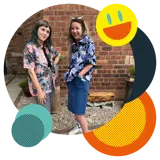 Hiya
We are a sustainable second hand clothing store specialising in retro and zero waste garments.
Our company is built the around the ethos that fashion should be sustainable, affordable and fun!
Visit our shop
Take a peek at what retro and reworked gems are in store today.

What we stand for
Here at Seamster Vintage we believe in being part of the change we wish to see in the world.